Nathan Kendall is an Actor and Content Creator in Los Angeles best known for his work in the Dhar Mann series. Recently, he had a role in "Gacy: Terror in Suburbia". He is quite the busy guy! Not only is he working and attending numerous red-carpet events, but he is also preparing for college in the fall. Thank you, Nathan, for taking time out of your crazy schedule for this interview!
Tell us about your latest project.
My last project was my role as Tommy in "Gacy: Terror in Suburbia". It was an amazing project, and I was so happy to be on it. Being able to work with all my friends was the best part of any job. It's a great thriller movie about serial killer John Wayne Gacy, it's not available just yet, but I can't wait for everyone to see it.
Where do you find inspiration for your characters?
I like to take in the surroundings of the character I'm playing and draw on similarities in my own life. From there, I create more stories in my head of what I think my character would say in the moment, or different ways they might act in a scene.
What do you love about working on Dhar Mann?
I love that when working on Dhar Mann, you feel like a big family with the crew. When I first started working on the videos, the group of actors worked with each other a lot, so we all knew each other pretty well, or new actors were welcomed. Everyone hung out together during breaks, lots of laughing, and there's no awkwardness.
What was your favorite memory from all the projects you've worked on so far?
Thats a very hard question, every set is different which makes it that much more fun, and each job an adventure. Working on Goldbergs was great smashing fruit, and working with Steven Spielberg was so inspirational. One of my funnier memories was while on Dhar Mann when we were filming for the 100 Dares episode. One of the boys had to stick their foot in really gross things, and every time it was so gross but funny at the same time. Filming we have to do certain angles or actions over and over and over again to get options for the shot, and our reactions were pretty spot on watching him dunk his foot over and over.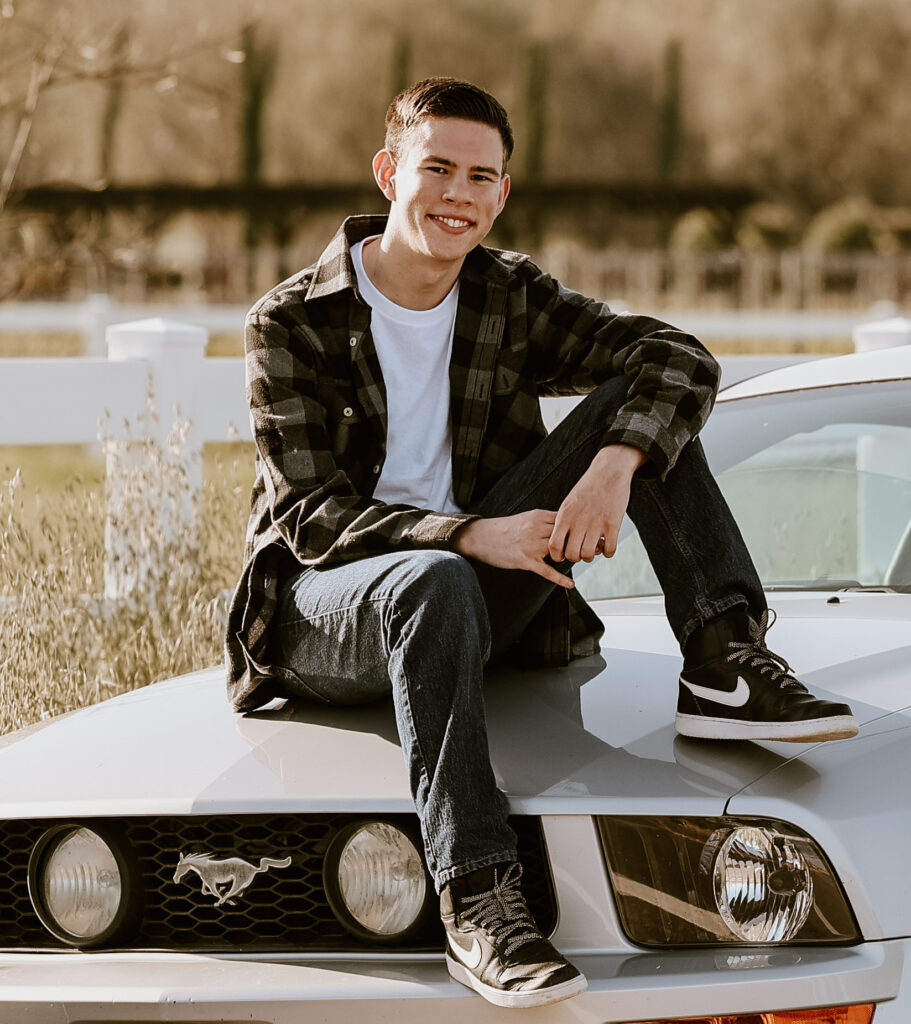 Photo Credit: Emily Manwell
As a content creator you go to a lot of red-carpet events. What has been your favorite so far?
I think so far my favorite red carpet event has to be the Hollywood premiere of "Shazam: Fury of the Gods'. We were able to go to a press junket a few days before the premiere, then at the premiere we met a lot of the cast including Zachary Levi, Lucy Liu, Asher Angel, I can go on. The carpet was wet from the rain, but I got to do a side kick on the carpet and had a ton of fun with my friends.
You always do a Karate kick somewhere in your feed. How did that start?
As a content creator, I want to be true to myself and who I am, but I also like to make content that is fun. I'm a 3rd degree black belt and wanted to post something that was unique to my skills but impressive for my followers. So, it kind of just happened one day. I've been doing jump kicks all over for a long time, but not for Instagram, so to start something I could be consistent with, Kickin' it Sunday was created.
Photo Credit: Kylene Kendall
Fun Question– As an actor if you could act with any actor in a film who would that be and why?
I for sure 100% would love to work with Ryan Reynolds because he does most of his own stunts and I really look up to him as an actor/stunt actor. He also seems like a pretty cool guy I could learn a lot from.
What are your plans for the rest of 2023?
A big part of the rest of 2023-I am starting college in August to study Mechanical Engineering. During my time there I will still be acting when I can, hopefully with friends in their awesome new projects, and auditioning when I can. I also plan to spend as much as possible with my friends and family aside from school. I am not moving far so I'll still be close by!