Joshua Turchin is one busy teen! He is a Broadway actor, musician, podcast host, composer, director, and producer. You name it, he's done it or is planning to do it! Joshua took time out of his hectic schedule to chat with me about his start in the business as well as his upcoming projects.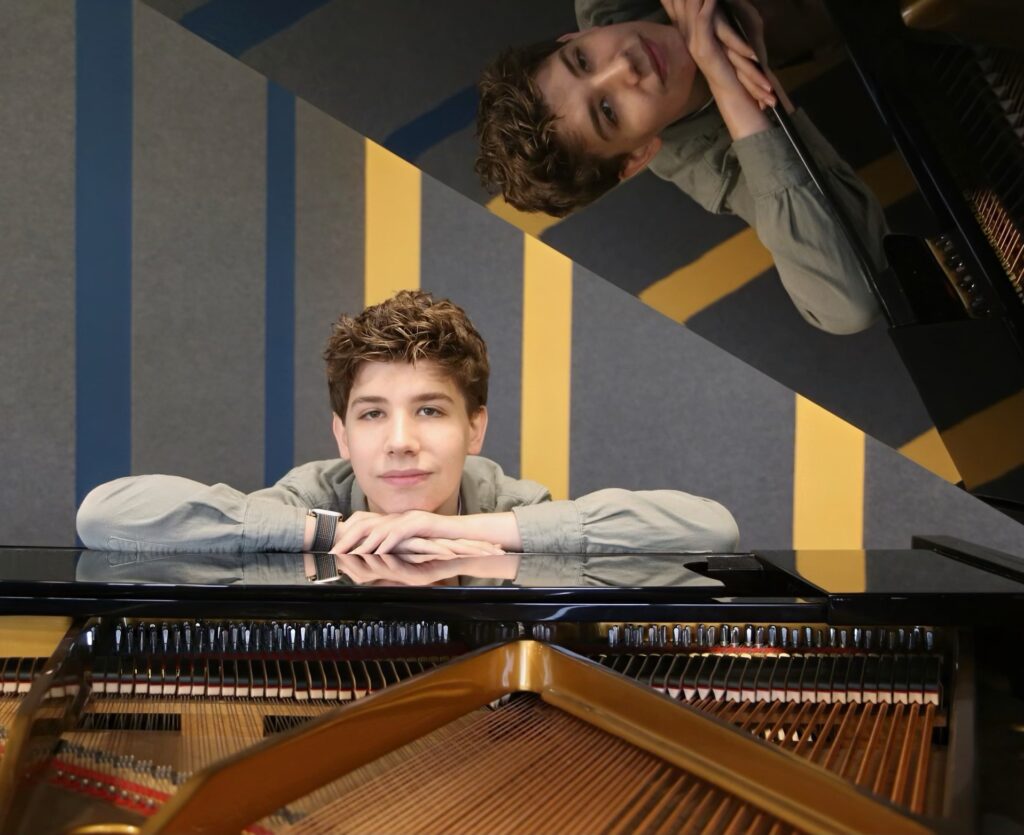 Tell us how you got started in the industry.
I was taking acting, singing and dance lessons when I was younger and came to NYC for some summer programs. I ended up signing with an agent and started auditioning shortly after. I booked a voiceover that summer, and then the Broadway national tour of "A Christmas Story: The Musical" later that year and have been working since.
You are a very accomplished Broadway actor and musician. What was it like the first time you graced a Broadway stage?
It was magical the first time I stepped out on stage, albeit a little nerve-racking for a nine-year-old. I was playing Randy in the national tour of "A Christmas Story", which was one of the leads. I didn't really have time to think about how nervous or excited I was though, since right after the first number I had to run off-stage and do multiple quick changes. I was so in awe of performers for their ability to gracefully move from scene to scene, and that feeling where I knew I had officially become part of that community is something I wouldn't trade for the world.
What was it like performing at the renowned Hollywood Bowl in "The Little Mermaid Live to Film" performance?
It was incredible. Growing up, Flounder was sort of a dream role for me, and actually being able to play him alongside so many people I admire and in such an iconic venue was the most amazing thing. Meeting Alan Menken was so special.
You are the host of "The Early Night Show". What gave you the idea to start your own show?
I used to host a cabaret in NYC called "The Early Night Show" where I would bring on a lot of my friends to sing musical mash-ups, original songs and other covers. When the quarantine started in early 2020, I knew that I had to find some way to keep my friends performing, albeit online. So, I decided to revamp the show for The Broadway Podcast Network, YouTube, and Instagram!
You are organizing a show at Below 54 in NYC. What is the concept for the show?
At 54 Below, I'm going to be doing "TikTok Takes Broadway", featuring so many incredible composers and performers from TikTok showcasing their songs and skills. I've known for a while that I wanted to do a show with all of my friends from TikTok, and I felt like this was the perfect opportunity to do that. There are so many talented TikTokers who would love to perform in front of a live audience, and I'm excited for them to have this opportunity. Without giving too much away, we have a lot of fun surprises in store for you all! Tickets are available at: https://54below.com/events/tiktok-takes-broadway/ and there is a link for tickets in my Instagram account (@joshuaturchin) as well.
What is your process for writing a Broadway musical?
My first full musical I wrote, "The Perfect Fit", was inspired by a lot of my experiences as a young performer. The musical begs the question – What happens to child performers when they grow too old to play a child, yet too young to play an adult. When I write, I have to come up with some idea or basis for the show. If there's a popular TV show circulating online that could use a few musical songs to move the story along, that's when I decide to "musicalize" it. If I felt like a similar idea could work as a full-length musical, then I would have to start drafting an outline to the show, working out where possible songs could go. After that, there's the actual script and score writing. When the script is finished, I have to do rewrites, and when the actual script and score are finalized, then it's off to see what happens next!
Where do you see yourself in 5 years? In 10 years?
I see myself writing music, whether it be orchestrating or actual songwriting, scoring a film, performing, and continuing to provide opportunities for others to work in this industry while focusing on making the world a better place for everyone.
What is one thing people would be surprised to know about you?
Something that people would be surprised to know is that I graduated high school at 15, and am currently at NYU studying music composition, orchestration, and Psychology!
What other upcoming projects do you have lined up for 2023?
I have many more cabaret and performing projects planned, including music directing a special benefit on 3/26 at The Green Room 42 called "Broadway Teens Raise Their Voices For Gun Safety" with my friend Carly Gold who is producing. Tickets may purchased online at: https://thegreenroom42.venuetix.com/show/details/oEumvnJBnCetSitV1ROd/1679871600000. I also am so excited to be music directing and producing "TikTok Takes Broadway" at 54 Below! I'm going to be announcing more shows and releasing original music soon, so check out my Instagram and stay tuned!
Where can your fans follow you on social media?
They can follow me on TikTok, Instagram, and YouTube @joshuaturchin