Dancer and Actress Gemma Asfour was born to perform. A dancer since she was little, she thrives on telling stories through the art of dance and acting. As the podcast host of Society Inspired, she encourages positive conversations of often difficult subjects. I recently had the pleasure of interviewing this special teen on her career and her plans for the future.
Tell us how you got started as a dancer.
How I got started in dancing was honestly something that came naturally to me. Ever since I could walk, I have been moving and performing. Dance has always been a part of my life and a huge aspect of what makes me who I am as a person. I can't imagine my life without having the art of dance in it. I am so grateful to be able to live and work in the world of dance.
How did you get started doing Chicago Footwork?
I got started in Chicago Footwork in the summer of 2018. Through the years, I have met so many people in the style and learned so much about its culture and roots. I have an immense appreciation for the culture and the music, and I always hope that respect shows in my dance. It has led to me learning other styles in the underground world, and I am so grateful to have this dance style in my life.
Have you won any awards for your dancing and if so what?
I have won a few awards for dancing. When I used to dance at a competition studio, I won quite a few awards as we were always doing competitions. But now that I have been in the industry, we don't necessarily win awards for all our work. I do aspire to be nominated for a choreography award position one day for the music video/tour choreography work I will do. But when we are doing commercials or projects, we don't really win awards.
How did you get started acting?
How I got started in acting was also when I was younger. My mom put me in dance, theatre, and gymnastics, and I ended up wanting to focus primarily on dance at the time. But being a dancer has the aspect of acting because you are telling a story through dance. Ultimately, I found I still had a passion for acting, so I started acting again and love pursuing it!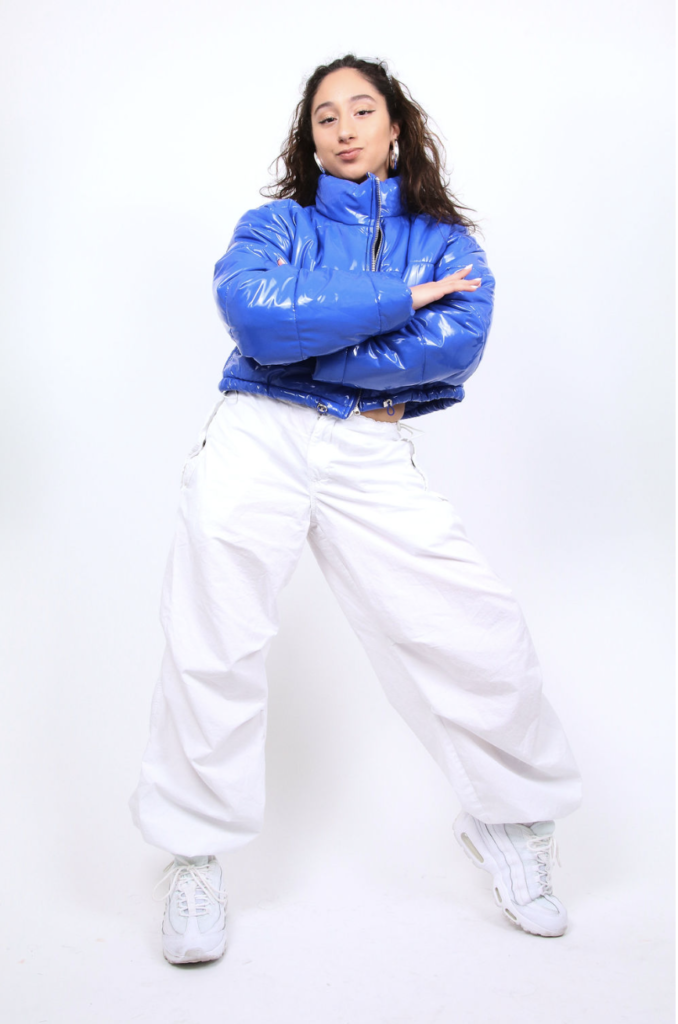 Photo Credit: Mary Mason, @fitbymary
What was your favorite memory from all the projects you've worked on so far?
I have a lot of good memories from the projects I have worked on thus far. But one of my favorites was from when I was younger and working with Tone Loc during a Minnesota Timberwolves game. Since I was younger, I don't think I realized how big of a deal it was to choreograph my own solo for an NBA halftime show with Tone Loc. I was just so excited to get out there and do my little solo. But looking back on it, I remember how exciting the process and experience were for me, and it will be a core memory.
You also have a podcast Society Inspired. Who has been your favorite person to interview and why?
I have a podcast called Society Inspired, where I interview activists monthly, switching social topics every three months. It is hard to say who has been my favorite person to interview so far because I learn so many different things from each activist that I interview. However, I recommend listening to all the different voices and conversations I upload! I am inspired by each activist and hope my listeners are as well.
Fun Question– As a dancer if you could choreograph a dance for anyone who would it be and why?
As a dancer, if I could choreograph a piece for anyone, I would currently choose Gracie Abrams, Clairo, or Faye Webster. Indie music's sound is one of my favorites, and I love choreographing to it, so I would love to create with anybody that makes that sort of music! But also choreographing something for the OG artists that appreciate dance, like Janet Jackson, Justin Timberlake, Madonna, etc. I would honestly choreograph for any artist because I love all types of music and love the creation process.
Do you have any new projects coming up and if so what can you tell us about them?
I do have new projects coming up that I am working on. As always, I am releasing dance content on my platforms. I have a concept video in the making, so stay tuned for that! I also have a few projects this summer that I can't talk about yet, so stay tuned to my platforms to find out more! I am going to be releasing more photography content, and a new episode of Society Inspired comes out every month. You can find me here, @gemma.asfour, on Instagram, Tik Tok, and YouTube. @society_inspired on Instagram, Tik Tok, YouTube, and your preferred podcast platform. Lastly, @snapsby.gem on Instagram for my photography content!
Photo Credit: Mary Mason, @fitbymary