Catherine Bradley co-stars in Nickelodeon's "The Really Loud House" as the hilarious prankster Luan Loud. The show, nominated this year for a Kids Choice Award, is based on the long running hit cartoon show. Catherine, who calls herself a real New Yorker, sat down for an interview with me to discuss her hit show as well as her time at the KCA's. She even spilled some fun facts about her and the show!
You are in the new show The Really Loud House. How did you get involved with this project?
That is a crazy story. My younger sister, Aubin, got the audition for Lucy Loud in the Loud House Christmas movie first. And of course, they loved Aubin. So, when Aubin got invited to a director session, my mom noticed on the email invite that they were still looking for some roles including Luan Loud, Lucy's older sister. Luan is a teenager who literally is obsessed with stand-up comedy and is also a prankster, a master of disguises, a ventriloquist, and a total theater geek. My mom thought I was perfect for Luan, except for one big problem . . . it said they were looking for someone 15-16 years old and I was only 13 at the time, and they almost never cast younger kids to play older kids. My mom called my manager and agent and they pitched me to the casting agent, Sheryl Levine, and I am so thankful she gave me the opportunity to send in a self-tape. I only had a day turnaround and I had to learn ventriloquism. I used my flying pig puppet with huge, long eyelashes. So, I guess they liked my tape or at least the flying pig. I then got a producer session next and got to meet the director, Johnathan Judge. I heard him laughing a lot and he was so nice. I think he really liked the flying pig puppet also, especially when she winked at him and would not get out of the frame. Anyway, then Jonathan made me imitate Mr. Coconuts, Luan's alter-ego puppet, and that was a lot of fun, except I had never heard Mr. Coconuts voice. (I winged it!) The funniest part was they did not know Aubin and I were sisters. And the most amazing part was that both Aubin and I got the job! What were the odds of that? Two real sisters playing sisters. It was so exciting and completely unexpected!
What did you think of the script when you first read it?
I was beyond excited when I read the first few scripts. Every time a new script comes out, I race to open it because there is always something new and fun and completely unexpected. Tim Hobert is the writer of the series, and the writing is so funny and unique. He is literally a genius and manages to make a kids show really appeal to both kids and their parents. He has also done an incredible job of taking cartoon characters that were more one dimensional and really bringing them to life and making them relatable. I have moments with Luan where she is over the top, but I also have some real moments where she shows her vulnerabilities like any teenager. Tim also has showcased many of the different talents of the cast and incorporated them into our characters. There is an upcoming episode where Aubin and I get to showcase one of our unique talents and that was so much fun to film!
The show was nominated for a Kids Choice Award. Is this your first time being nominated for a KCA?
Yes. This was the first time I have been nominated for a KCA and it is such an honor. I am so happy that kids love this new series and was so proud that we got a nomination right in the middle of our first season. The feedback from fans is so positive. They really love this show and these characters. There literally is a character for everyone to identify with which makes this series so special. Hopefully, we will be back next year with a nomination and a win!!!!
What was your experience like actually being at the Kids Choice Award Show in Los Angeles?
Being at the Kids Choice Awards was a magical experience for me. Ever since I was little, I have been watching the KCAs. Seeing it in person, especially attending the KCAs as a part of a nominated show, was so surreal. I loved being able to put a face to so many of my other Nickelodeon friends. I loved getting to get all dressed up and walk the orange carpet! Seeing everyone's outfits was definitely one of the coolest parts, as I love fashion. One of my other favorite parts was attending with my little sisters, Aubin and Alex. Getting to share such a memorable moment with them is something I will always remember.
What was your favorite memory from the KCA's?
I absolutely loved watching the performances. Music and concerts are so fun! I loved getting to see all the dance numbers as well as costumes. Concerts are such a fun form of theater, and I can appreciate an amazing production. I was also sitting so close to Adam Sandler, who I LOVE!!!! Seeing him get slimed on his throne was definitely a highlight.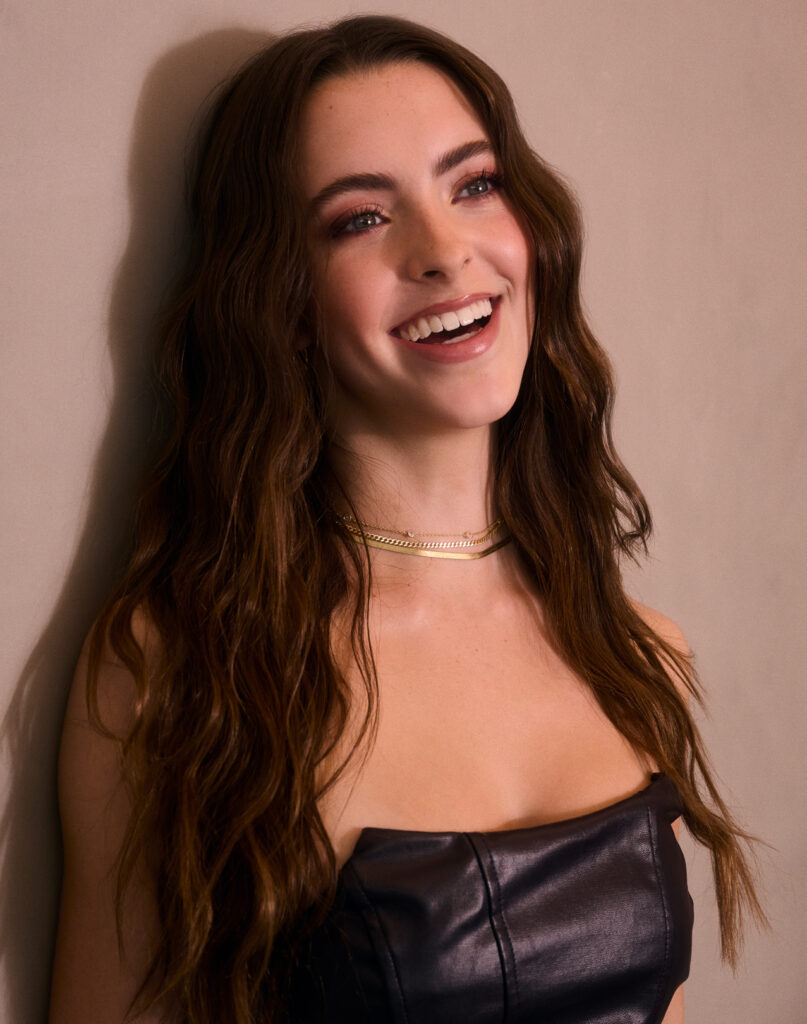 Photographer: Kelsey Hale Make-up: Courtney Hart Hair: Dicky Collins
What is your favorite memory from working on this show?
My favorite memory from working on the show was getting to act with Vicki Lawrence. Getting to be able to learn from such an iconic comedian was truly an experience I will never forget. She was such a joy to be able to perform scenes with, as she was so funny.
The show filmed in New Mexico. What did you like about shooting there?
I always love shooting at locations far away from where I live, as I get to experience a bunch of different places. What I love most about Albuquerque is the beautiful mountains. In the summer I went hiking, and in the winter, I went skiing. It's a very pretty place – filled with lots of things to do. It is also very close to LA, so many times on the weekends, I get to go there and visit my friends.
Fun Question– What is one thing no one knows about you?
I love Rom-Coms. They are perfect for any situation. One of my favorites is the Devil Wears Prada, not only because I love fashion, but I love Meryl Streep. I am also obsessed with bikinis; I think I have like 50 of them. I really love summer – must be the Jersey in me – although I was born in New York City and lived there until I was five. I am definitely a New Yorker!
Any upcoming projects you can share?
Well, I am so excited that I can finally announce that "The Really Loud House" has been renewed for a Season 2 with 20 episodes. Also, there is going to be a Halloween Movie that I am beyond excited about!!!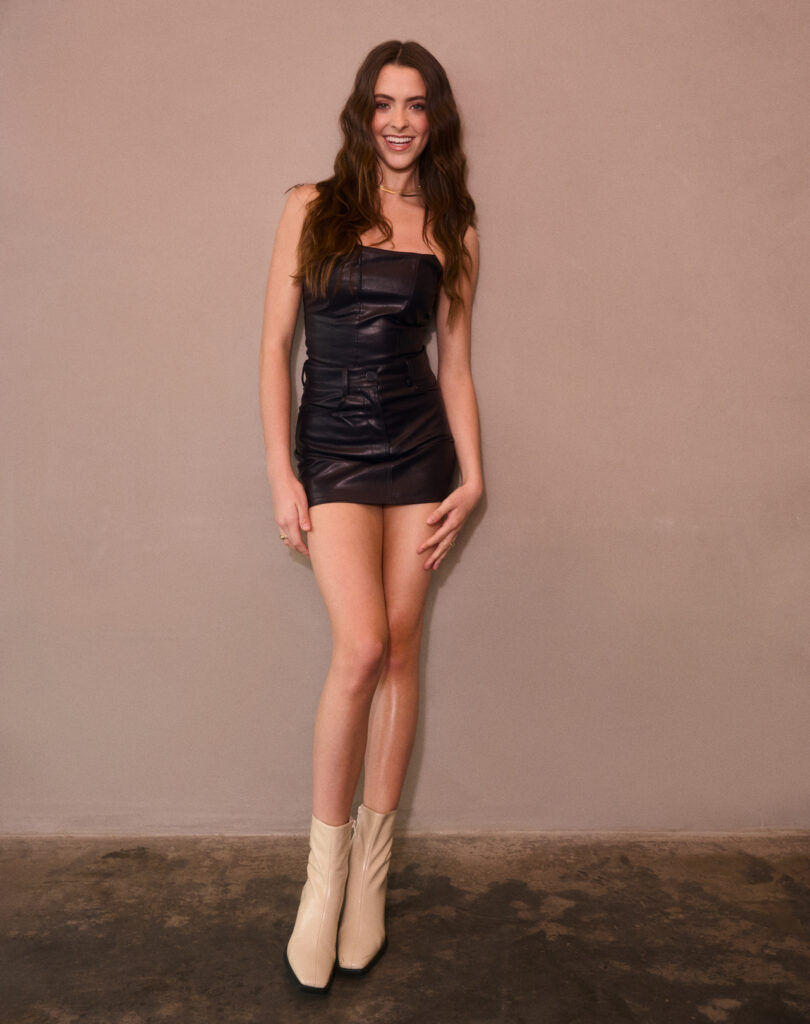 Photographer: Kelsey Hale Make-up: Courtney Hart Hair: Dicky Collins